Go straight to:
Introduction
Since the beginning of the twentieth century, a disused clay pit near the village of Barnham, Suffolk, was known to contain artefacts from the Lower Palaeolithic. Initial excavations took place between 1989 and 1994, producing artefact assemblages and floral and faunal remains dating to the Hoxnian Interglacial, approximately 400,000 years ago. Modern excavations have taken place since 2013, partially run as a three-week student field school each summer.
Research Aims
The research for the Barnham excavations is focused on three main areas: re-investigation of handaxe and non-handaxe lithic assemblages, interpreting evidence of fire, and documenting the flora and fauna at the site:
1.) Reinvestigation of Handaxe/Non-Handaxe Assemblages
We are reinvestigating two different lithic assemblage types at the site — one without handaxes (Clactonian) and one with handaxes (Acheulian). Research during the 1990s concluded that both assemblage types were found in similar deposits at different parts of the site and were therefore at least geologically contemporary.
The favoured interpretation was that the same group of people was responsible for both assemblages, but with different activities and tools in the two areas.
A more complex picture is emerging through our recent fieldwork, which re-examines the evidence with improved resolution of the geology. It seems that the non-handaxe assemblage is slightly earlier than the handaxe assemblage, and that two separate human populations are represented.
This leads to questions such as:
What is the time gap between the occupations?
Can different populations be identified at other sites of this age?
Were different hominin species responsible for the different industries?
Can other technological differences be identified?
2.) Interpreting Evidence of Burning
Abundant quantities of burnt flint have been found at Barnham, but it is not clear whether this is from a natural forest fire or the controlled use of fire by humans.
Some of the earliest evidence of human fire use in Europe was found at nearby Beeches Pit, also dating to around 400,000 years ago.
In recent years, charcoal has also been found at Barnham in several locations, possibly supporting other indications of use of controlled fire at the site.
If our work at Barnham provides evidence of more widespread use of fire, this may shed light on a major turning point in early human evolution.
3.) Documenting Flora and Fauna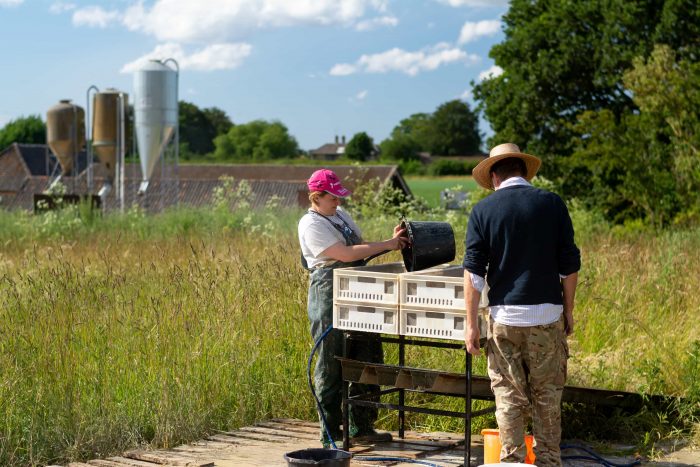 A final aim is to increase our knowledge of the floral, molluscan and vertebrate assemblages recovered at East Farm.
Barnham is one of the richest sites in Britain for amphibians and reptiles, with exotic species such as tree frogs and European pond terrapins. There are also exotic mammals, including extinct species of rhinoceros and elephant.
A large-scale extraction and sieving programme has begun and the results are adding to our understanding of the area's fauna. We are also using new pollen analyses to learn more about the local vegetation.
Barnham Timeline
1700s: The earliest indications of clay digging at East Farm, the pit becomes the main source of bricks for the Euston Estate
1880s: The pit is shown (as a "Gravel Pit") on 1st edition Ordnance Survey (OS) map, with the brickworks located on the eastern edge of Barnham village (NGR TL 876792), by what is now Salmond Drive.
1891: The pit is mentioned in the Old Series Geological Survey Memoir for Ely, Mildenhall and Thetford.
1900s: The enlarged pit is shown as a "Clay pit" on the OS map. Bricks made from clay extracted from East Farm pit are used to rebuild Euston Hall after it was damaged by fire in 1902.
1913: First published report of Palaeolithic artefacts from Barnham by Clarke in the Proceedings of the Prehistoric Society of East Anglia, also including a description of the deposits in the brick pit.
1930s: Last clay extraction takes place at East Farm pit.
1933-36: TT Paterson conducts excavations at East Farm Barnham as part of his study of the geology and archaeology of the Breckland. Findings published in the Proceedings of the Prehistoric Society of East Anglia in 1937.
1979: John Wymer cuts a section in the pit, locating the cobble surface and finding a refitting group of 13 flakes and a core. 
1989: A reconnaissance visit to East Farm in February to explore the potential for further research is followed by a week's fieldwork which established areas for larger scale excavation.
1990-94: Five seasons of fieldwork take place at East Farm, Barnham, directed by Nick Ashton (British Museum). By the end of the excavations, three archaeological areas had been excavated, Area I, Area IV(4) and Area V and an Area III had been excavated to recover faunal material. Papers were published in the Journal of the Geological Society and Antiquity.
1998: Publication of results of the 1989-94 excavations as a British Museum Occasional Paper; Excavations at the Lower Palaeolithic Site at East Farm, Barnham: 1989-94.
2000: The Quaternary Research Association visits East Farm as part of its Annual Field Meeting. TimeTeam broadcasts an episode featuring the nearby site at Elveden and also including Barnham.
2013: Excavations recommence at East Farm, again led by Nick Ashton. A group of eight students from Leiden University join the research team to establish a new archaeological area (Area VI) in the southeast corner of the pit and the faunal area (Area III) is relocated and enlarged.
2014-19: Six seasons of fieldwork undertaken at East Farm, with students from Leiden as well as several UK universities. Major excavations in areas III and VI have yielded 100s of lithic artefacts, numerous fauna remains and new geological information.
2016: First results from new excavations published in Journal of Quaternary Science.
Publications & Further Reading
Ashton, NM. 2017. Early Humans. HarperCollins, London.
Ashton NM, Lewis SG & Parfitt SA (Eds) 1998. Excavations at Barnham, 1989–94. Britsh Museum Occasional Paper 125, London.
Ashton NM, Lewis SG, Parfitt SA, Davis RJ & Stringer CB. 2016. Handaxe and non-handaxe assemblages during Marine Isotope Stage 11 in northern Europe: recent investgatons at Barnham, Suffolk, UK. Journal of Quaternary Science 31, 837–843.
Davis RJ, Lewis SG, Ashton NM, Parfitt SA, Hatch MT & Hoare PG. 2017. The early Palaeolithic archaeology of the Breckland: current understanding and directions for future research. The Journal of Breckland Studies 1, 28–44.
Gowlett JAJ, Hallos J, Hounsell S, Brant V & Debenham NC. 2005. Beeches Pit – archaeology, assemblage dynamics and early fire history of a Middle Pleistocene site in East Anglia, UK. Eurasian Prehistory 3, 3–38.
Preece RC, Gowlett JAJ, Parfitt SA, Bridgland DR & Lewis SG. 2006. Humans in the Hoxnian: habitat, context and fire use at Beeches Pit, West Stow, Suffolk, UK. Journal of Quaternary Science 21, 485–496.
Preece RC & Penkman KEH. 2005. New faunal analyses and amino acid dating of the Lower Palaeolithic site at East Farm, Barnham, Suffolk. Proceedings of the Geologists' Association 116, 363–377.
Wymer JJ. 1985. Palaeolithic Sites of East Anglia. Geo Books, Norwich.
Contributors
Nick Ashton (British Museum)
Simon Lewis (Queen Mary University of London)
Simon Parfitt (Natural History Museum & University College London)
Rob Davis (British Museum)
Peter Hoare (Queen Mary University of London)
Claire Lucas (British Museum)
Marcus Hatch (Queen Mary University of London)
Claire Harris (Queen Mary University of London)
Joshua Hogue
Sophie Hunter
Craig Williams
Tudor Bryn Jones
Simon O'Connor
Jordan Mansfield