This page brings together memories of Peter Hoare, a member of the Pathways to Ancient Britain project and its predecessor, AHOB. Over many years, Peter contributed hugely to the projects' work and was a much-loved friend to those involved.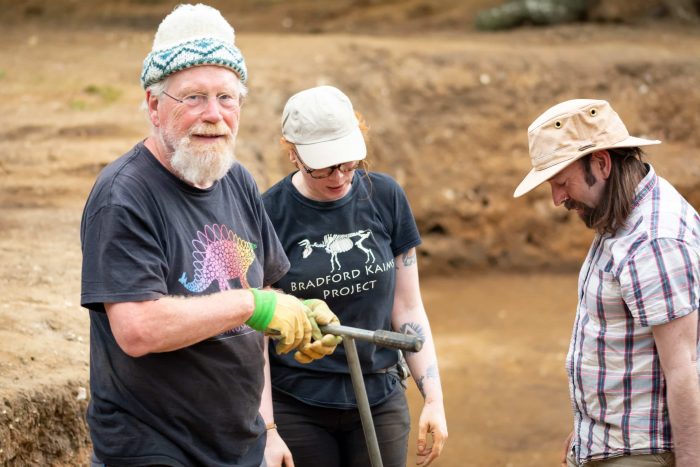 Peter sadly passed away in 2020. We have put together this page in his memory, to which further additions will be made. We have also provided a full list of Peter's many publications.
Contents:
Obituary by Nick Ashton, Simon Lewis and Simon Parfitt
The final chapters in Peter's career centred around his involvement with the Ancient Human Occupation of Britain (AHOB) and subsequently Pathways to Ancient Britain (PAB) projects. We were aware of his work, not least through his classic 'Bible', Quaternary Sediments: Petrographic Methods for the Study of Unlithified Rocks, co-authored with Stephen Gale. Our paths must have crossed at conferences or field excursions, but it was not until June 2007 when Peter strode along the beach at Happisburgh, that we were first introduced by Nigel Larkin. He offered his expertise to the excavations that day, identifying some of the more unusual lithologies. It was over a couple of pints in the beer garden of the Hill House that evening, that we realised we had acquired both the skills of a Quaternary specialist, and also a man with whom one could happily spend the evening mulling over the world and life in general. He soon became a core member of the team, fully immersed in Happisburgh and much of the other AHOB and PAB research.
There were many project excavations that benefitted from Peter's skills. He had several seasons with Rob Dinnis at the Upper Palaeolithic sites of Kent's Cavern and Ffynnon Beuno, with regular Julys spent on the Ice Age Island project with Matt Pope and Beccy Scott on Jersey. With Peter you got the full package, contributing not just his geological skills, but his willingness to volunteer for any task, however mundane – writing bag labels with his meticulous hand, sieving for endless days in the sea at Happisburgh, or barrowing samples up to the processing area at Barnham. Occasionally his enthusiasm got the better of him. From the cliff top at Happisburgh he decided there was a quick way down to the beach. He slipped at the first foothold, tumbled several metres down the face and miraculously avoided all obstacles en-route. His look was a mix of puzzlement, embarrassment and relief, but he leapt to his feet, both ego and body slightly bruised, and declared that it was time for lunch.
From 2013 he was a key member of the excavation team at the Lower Palaeolithic site at Barnham, contributing to all aspects of the work on site, from sediment description to teaching students on recording clast orientation with compass-clinometers. Correct tea-making was also deemed important with instructions to students in English and Dutch, admittedly leading to mixed results. Post-work, he introduced the diggers to dwile flonking and umpired the annual rounders match in lab coat and flat cap, conjuring rules on the hoof, and flourishing yellow cards with a firm smile for any dissent.
Of course, the amassing of lithological samples required processing, sorting and identifying. Peter was the man for this monumental task. Regular trips throughout the year were taken from his home in Ely to the labs at QMUL or the British Museum for analysing gravels from Happisburgh, Warren Hill, Santon Downham and many other project sites. Semi-processed samples frequently returned with him to Ely in a wheeled suitcase to continue the work, while deliberation with Simon Lewis over trickier rocks often led to long discussions, or as Peter put it 'checking his homework'. Other laboratory tasks were also undertaken and new skills acquired; in his final years he was mastering the use of Fourier transform infrared spectroscopy (FTIR) to test for burning and potential fire-use at Barnham.
Through both fieldwork and laboratory analyses his attention to detail was clear, but it was even more evident from his writing, having inherited the skills of his father, who was a proof-reader. We were more or less versant with the correct use of apostrophes, or the optional Oxford comma, but we had rarely encountered the distinction between 'm-dashes' and 'n-dashes', or the misuse of hyphens. We stood corrected; the many papers we co-authored on Happisburgh, Barnham and other project sites, have seen the benefits of Peter's correct English-usage (hyphenated we think), clearer explanations and more elegant turns of phrase. 
Peter's research interests were diverse. Over the last few years he had developed a deep interest in Worthington George Smith, the 19th century illustrator and antiquarian. Using museum archives, family histories and the British Museum's collections, he explored Smith's contribution to the early years of Palaeolithic research. As well as throwing light on his archaeological endeavours, Peter delved into Smith's network of friends from shepherds to country gentlemen, uncovering a social history at the turn of the 20th century, and leading to several publications. Among his other interests were the orientation of medieval churches, the geology of building stones, and a recent contribution on the "Arthritic, scavenged and largely abandoned" Stretham pliosaur, as the paper's title put it. While excavating at the former clay pit at Barnham, he even created a photographic archive of the diverse bricks used to build the nearby Euston Hall, some of which originated in the pit.
Time spent with Peter was never dull with conversations ranging from the identification of ventifacts to discussions about cycling, cricket, rugby or whether he would buy another season ticket for Arsenal. Yarns from the Australian outback, or tales from the early years of the Cambridge beer festival lightened many more serious conversations. Most post-work occasions were marked by his natty dress-sense – flowered shirt, smart shorts and deck shoes were de rigueur for all but the coldest months.
Peter's untimely death has left a big chasm in our lives. We will miss his meticulous approach to the subject, his tireless efforts to achieve the best, the conversations over coffee or in the pub after work, his own brand of dry, self-effacing humour, and his kindness, compassion and ability to listen. He has left a great legacy of academic papers and archives, and several projects that he was still researching. We will endeavour to complete these over the next few years and try to emulate the high standards of which Peter would be proud.
Nick Ashton (The British Museum), Simon Lewis (Queen Mary University of London), and Simon Parfitt (UCL and Natural History Museum).
Obituary by Stephen Gale
I first met Peter Hoare in 1984. Mrs Thatcher had taken an axe to British universities. I'd lost my job at Aberystwyth (either as a result of the application of the last-in, first-out principle or my incompetence, the choice is yours) and had managed to scrape into a junior lectureship at the Cambridgeshire College of Arts and Technology. We were accommodated in asbestos-riddled post-war huts sandwiched between a graveyard and the Victorian school-house that housed the institution's Department of Science. I shared an office with Nick Goddard, whom I rarely saw, though the jacket on the back of his chair had been carefully re-arranged every time I came in and piles of marking regularly appeared on his desk for students to collect. I had imagined that I was in for a pretty miserable time, living as an edge dweller gazing at the well-endowed glories of the university on the other side of Parker's Piece. The fact that instead it turned out to be one of the most glorious episodes of my life was almost entirely a consequence of the presence in the department of Peter Hoare.
Peter had come to CCAT by a circuitous route. He had been trained as a technician in the laboratories of the Soil Survey of England and Wales at Rothampsted and, after a year with the British Geological Survey, had gone to Trinity College, Dublin to do a PhD on the glacial geomorphology of County Dublin. My arrival came at an opportune time. On our doorstep was East Anglia, home to one of the most important Quaternary sequences in the world, and Peter had spent the last dozen years acquiring an encyclopaedic knowledge of the backwaters of its stratigraphy. I had imagined that during the previous century or more every field and paddock in the area would have been tramped by the veldtschoen-clad éminences grises of British geology. How wrong I was. It turned out that most of the country was a geological terra incognita. We chose a small and neglected corner of northeast Norfolk and for the next three years drove out there every Sunday chasing the leads of the early-century scholars. We re-investigated Morston on the north Norfolk coast, a stage 7–6 site that at the time was the only location in East Anglia where interglacial deposits separated glaciogenic sediments (this may still be the case for all I know, it's a long time since I worked in the UK) (Gale et al., 1988; Gale and Hoare, 2007a; Hoare et al., 2009). We looked at the Blakeney esker, which, despite the efforts of earlier workers to prove otherwise, turned out to be an esker after all, though one with a novel and complex sedimentology (Gale and Hoare, 2007b).
Meanwhile we had managed to persuade the college authorities to fund a new laboratory specifically for the analysis of Quaternary sediments. A large, overlooked room was acquired, favours were called in and the room was plumbed in and fitted out, and, although I can't remember how any more (though I'm sure that the support of Tony Carter was of critical importance), a new position of laboratory technician was established. Quickly, and largely in the back rooms of inner-city pubs, a plan was hatched to write the lab manual that was needed to codify the procedures required for the physical and chemical analysis of Quaternary materials and, rather less than a decade later, Quaternary Sediments appeared (Gale and Hoare, 1991; 2011).
Shortly after my arrival at CCAT, Peter decided to re-engage with his youthful passion for cycle racing. In typical Hoare fashion, this involved a total and dedicated commitment to the sport. He borrowed a stationary trainer from the college gym, installed it in the department and, through the winter, trained frenetically every night. You'd arrive to find the building dripping with condensation, and puddles of perspiration accumulating around the machine as he whirled frantically away. With the arrival of spring, he was on the bike and winning events across the district. He sheepishly returned the trainer to Doug in the gym. It never ran again, jammed into uselessness by the corrosive effects of months of sweat.
I spent three years at CCAT, was offered a post at the University of New England and spent the rest of my career in a series of positions across Australia and the Pacific. Nevertheless, Peter and I were able to keep working on a series of projects, with Peter taking up, first, a Faculty of Arts Visiting Fellowship at the University of New England and then a couple of temporary lectureships in geoscience at the University of Sydney.
Peter was a scrupulously careful fieldworker and laboratory analyst. It was from him, for example, that I learned the habit of photocopying and archiving my notebooks against the inevitable day when they were lost. He had a refreshingly cynical attitude to the received wisdom of the academy and his knowledge of the minutiae of East Anglian stratigraphy was immense. I'll miss him.
Stephen Gale (The University of Sydney)
Click here for a bibliography of sources used in the above text.
Memories of Peter Hoare, by Rachel Bynoe
How can I put Peter into words? It's hard to write about such a wordsmith without wishing you could ask for his thoughts. Peter (Pete, Petey, Uncle P) was a quick-witted, dry-humoured and wonderfully kind man who I—and we all—loved and miss dearly. I met Peter sifting through earth (mainly badger s**t) in a cave in Wales, where all good friendships start. We became friends after I shamelessly, but very accidentally, flattered him ("Oh! You're the Peter Hoare that wrote about Scandinavian erratics in the Happisburgh Till?" I was genuinely thrilled).
Over the following years Peter became a close friend and an ever-supportive colleague. Work trips to various parts of the country often consisted of long journeys with his eclectic mix of CDs, stop offs at hidden pubs and diversions to churches incorporating interesting geology and the grave of an antiquarian or two. Nearly always in shorts and a colourful shirt.
Despite many of my memories relating to G&Ts and resulting heart-to-hearts, Peter's meticulousness is one thing that I will always remember. His proofreading of a paper returned a mess of red lines (or, prior to the use of track changes, a scanned document annotated with his distinctive handwriting), photographs perfectly composed and labelled, the bottle of hydrochloric acid in his pocket, ready to test samples. Peter never did anything by half, neither his work nor his friendships. His input was always carefully considered, gratefully received and hugely beneficial, and his advice and kindness will remain a constant comfort.
Rachel Bynoe (University of Southampton)
Photo Gallery
Below are some photos of Peter taken in recent years during his work for the AHOB and Pathways to Ancient Britain projects.
Peter's Publications
We have created a page with a full list of Peter's publications.