Resources for Collectors
We are working to create resources to support Palaeolithic artefact collecting on the North Norfolk coast. Resources will include a guide on how to recognise worked flint, how best to document your finds, and a general guide to the Palaeolithic archaeology of the Happisburgh area.
Whilst we are creating our new resources you might like to take a look at some posters that we created for our Being Human event at the Wenn Evans Centre in 2019. Click on the links to see the poster images as pdfs.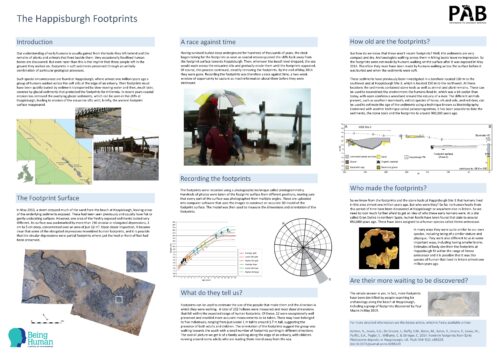 Reconstruction of Happisburgh Site 3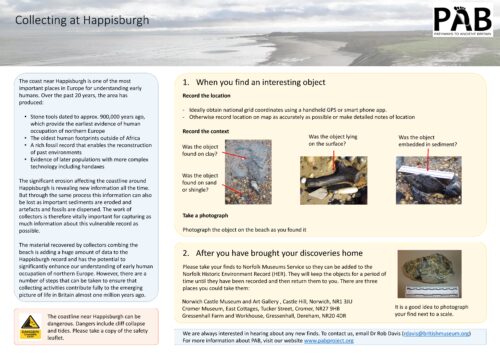 Resources for Schools and Families
We are working to create resources that can be used by schools and families to support learning at Key Stages 1 and 2. Look out for fun activities coming in time for the October half-term holiday!
Bibliography and Links
Ashton NM, Lewis SG, De Groote I, Duffy S, Bates M, Bates R, Hoare PG, Lewis M, Parfitt SA, Peglar S, Williams C and Stringer CB (2014). Hominin footprints from Early Pleistocene deposits at Happisburgh, UK. PlosOne.
Ashton NM, Lewis SG, Parfitt SA, Bates M, Bates R, Bynoe R, Dix J, Hoare PG and Stuart F (2018). Understanding and Monitoring the Cromer Forest-bed Formation. Historic England Research Report: Series no. 62-2018.
Lewis, SG, Ashton, N, Field, MH, Hoare, PG, Kamermans, H, Knul, M, Mücher, HJ, Parfitt, SA, Roebroeks, W and Sier, MJ (2019). Human occupation of northern Europe in MIS 13: Happisburgh Site 1 (Norfolk, UK) and its European context. Quaternary Science Reviews, 211, 34–58.
Parfitt SA, Ashton NM, Lewis SG, Abel RL, Coope GR, Field MH, Gale R, Hoare PG, Larkin NR, Lewis MD, Karloukovski V, Maher BA, Peglar SM, Preece RC, Whittaker JE and Stringer CB (2010). Early Pleistocene human occupation at the edge of the boreal zone in northwest Europe. Nature 266: 229-233.